Technology has always been a crucial driver of change in human history; the invention of the wheel, the steam engine or of the internet.
Robotics and automation technologies will definitely be seen as a game changer, even if the extent of change brought about is still to come. While robots have been used in industrial processes since the 1970's, the ubiquitous economical and social changes are only beginning to occur now. There are reasons for the lag in implementation:
Automation technology utilizing industrial robots has been expensive and separate from the human workforce primarily for worker safety. Collaborative robotics makes automation technology affordable for small and medium sized enterprises and is working alongside or with people. The same thing is concurrently happening in other fields of automation technology; like
AI
, Big Data or service robotics.
Democratized innovation

The familiar image of industrial robots has them working in large depopulated factories. Now more people are actually getting in touch with them at work daily. However; as automation equally affects technical, financial and social aspects of a business, a holistic & strategic approach is necessary when implementing these new technologies into business processes.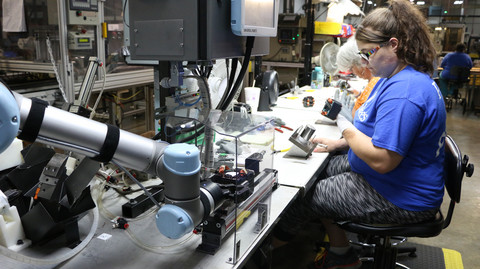 The rise of the CTO
Most companies handle technical aspects, including automation, under responsibility of their Chief Technical Officer (CTO). Although the future role of a CTO will probably not lose relevance, it is to be seen whether a sole focus on technical aspects is suitable in view of technologies that have a broader impact. Automation can be an enabler for the creation of new positions within companies and new business models for external service providers. For example; the role of the Chief Robotics Officer (CRO) will rise in importance: A Myria Research study expects over 60 percent of the Global1000 businesses having a CRO in their staff by 2025.
A holistic approach
A Robotics Business Review whitepaper sees the CRO as "crucial to managing the proliferation, cost and integration of robotics technology in early adopter businesses, especially where robots overlap with other operational technologies and human operators." In partnership with other business units like IT, finance, engineering or HR, the CRO manages the choosing, implementing and maintaining of automation technologies in technical, financial and social aspects within a company. This holistic approach is geared to ensure companies keep control of their technically varied, but closely linked automation technologies, releasing their full potential. Also, it is the CRO's responsibility to communicate automation changes with the staff. Tasks for human workers are going to change significantly as robots and other automation technologies take over monotonous and strenuous jobs. In this role as an automation manager, the CRO has to make sure that the employees are aware of this change and prepared for their new tasks.

Today, the role of the CRO might just be a theoretical concept in most companies. But with automation technologies currently reaching a turning point from the exception to the rule; we foresee new business models and positions to be created and handled by the new CRO.