From November 16-18, Las Vegas will be all about metal working and fabricating. Well, maybe Las Vegas will still also be about gambling.
But there is more than just slot machines in town: To discover innovative automation solutions in the metal working industry, you will find no better place during this period than FABTECH 2016, November 16-18 at the Las Vegas Convention Center – this year Universal Robots will have an appearance with our own booth for the first time.
At FABTECH the UR robots will be exhibited in an application mounted with a scanner that provides metrology data on prototypes, comparing product deviations to technical drawings. The user friendly robots will also be showcased in welding and material handling applications. So do stop by booth N-1804 for a close encounter!

Historically, the metal working industry has been a place where new automation technologies have been implemented early. To keep up with the competition, big players have relied  on finding innovative ways to steadily raise efficiency. The invention of assembly line production at the beginning of the 20th century or the implementation of industrial robots in the 1970's streamlined production. Collaborative robotics mark another industrial revolution, from its inception it has played a vital role in the metal working industry. But this time, there are two crucial differences.
Previous industrial revolutions developed top-down, as they primarily had their origin in large enterprises forging new ways of automation: They mostly resulted out of the invention of big and bulky machines, which regarded a lot of space in extensive production halls. And, even more importantly, these machines were expensive, which is why the technologies were affordable initially only for large enterprises. In contrast, the current industrial revolution coming with collaborative robots, comes bottom-up: By lowering costs and decreasing space requirements these robots make automation possible for small and medium sized enterprises.
The metal working industry is still seeking to raise efficiency and precision in both large and small enterprises. Recently, a third factor has become just as important: Flexibility. More and more often customers ask for highly individualized products, making the entire supply chain with all of its parts face a challenge of a complex high mix/low volume production. The metal working industry is not an exception. This phenomenon results in the need for flexible automation technology to be set up for new tasks easily and quickly.
How might this look in practice? What is the opinion of people actually being responsible for such a production line? Let's take a look:
Challenge:
Etalex is a Canadian shelving system manufacturer, needed a flexible robotic arm solution that could be used for multiple tasks while taking up little valuable space on the production floor.
One of the tasks is manually unloading a brake press 8 hours a day. Physically demanding work that also has the potential for accidents.
"We needed a flexible automation solution that could be used for 10 different production cycles. Since I only have 6 feet of space in front of the brake press, it was important that I could run this application without safety caging around it." - Jean Francois Rousseau, Plant Engineer, Etalex
Solution:
Etalex chose a solution based on a UR10. It stands proudly at the start of the immense 300,000 square foot production hall. And, unlike any of the other 25 robots, the UR10 has no protective fencing taking up valuable space.
The UR10 takes pieces out of the brake press using a suction cup and places them in a stack nearby. This repetitive, potentially dangerous work is perfectly suited to the collaborative robot arm.
The manual tasks delegated to the employees have now been reduced to an hour daily spent on inspecting the quality of each pallet and changing the coils. Freeing up valuable time to work on more rewarding tasks.
Machine operator at Etalex, Richard Clive, stresses how the UR10 has made the work place much safer:
"Before, you had to put your hands close to the brake press. There's always a chance of an accident happening at any time. But with the Universal Robots, there is no chance of anyone getting injured."

Mobile Cobots bring automation of metal fabrication where it is needed
Scott Fetzer Electrical Group is a manufacturer of components for electric engines in Tennessee. The company was looking for new ways to become more competitive on the global scale, while taking more advantage of existing machinery – and collaborative robots is what they found:
When the first UR5 robot arrived at Scott Fetzer Electrical Group (SFEG), it was quickly named "Waldo",  inspired by the popular "Where's Waldo" books featuring a friendly fellow that keeps appearing in new places among crowds of people.
"One day Waldo would be bending sheet metal, the next day he would be performing pick and place tasks, and the third day we would take him to Manufacturing Day at the local high school," says Matthew Bush, Director of Operations at SFEG that manufactures a wide range of electrical motors and components.
Having the UR robots placed on pedestals on wheels mean that they can quickly move between tasks, after the UR10 has completed a production run at the stamping machine, it is being set up to tend the box folder and TOX press.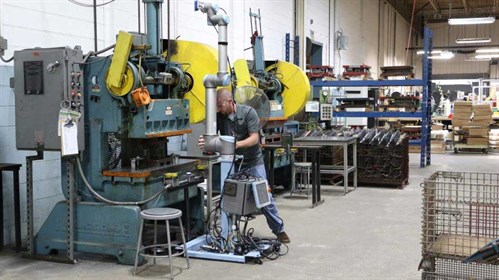 "One of our biggest challenges is we're a high mix/low volume producer, most of our lines don't run all the time, so trying to find a way to put robots on the line in the traditional sense was a very big challenge. The only way we would accomplish this was with a collaborative robot. It's got the speed and precision of a standard industrial robot with the ability to move around and work next to humans", said Matthew Bush, Director of Operations at SFEG
By implementing a fleet of 14 collaborative robots on mobile platforms into production, SFEG made use of the fact that cobots are re-deployable and can operate with minimal or no safety guarding right next to humans. It is a radical break away from traditional industrial robots that usually stay hardwired behind safety guarding, fenced off from people.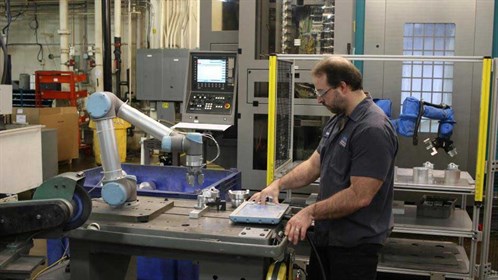 Flexibility pays out quickly
Another good example is Task Force Tips, an enterprise based in Indiana manufacturing firehose valves. The company has been working with robot technology since 1990, but has recognized that traditional industrial robots quickly reach their limits when it comes to a flexible usage and new tasks:
"So what happens is the machine the robot is loading day in day out wears out first and now you have a $100,000 robot that you can't do anything else with? We had heard of collaborative robots that could be used in a much more flexible manner, so we decided to explore this new technology," said Stewart McMillan, CEO at Task Force Tips.
And the exploration turned out well: Task Force Tips installed one UR10 robot and two UR5 robots to tend CNC machines, a fourth UR5 is mounted to a table on wheels and moved between tasks. They work collaboratively right alongside TFT employees due to a built-in safety feature causing the robots to automatically stop operating when they encounter obstacles in their route. A scenario McMillan calls "a fundamental paradigm shift" – and which resulted in a ROI of only 34 days.