Insights into the developer community
Just a little more than one month has passed by since we launched the +YOU Developer Program.
For us, a lively exchange with the developer community is essential; the robot arm is not a complete solution without developers providing custom-fit products, whether it be end effectors, software or accessories. Thus, Universal Robots' success is and always has been closely tied to a productive community that works hard on making it possible for customers to get the best out of our robots. With +YOU we take account of these close ties and provide a place for developers to join forces with each other – and also with us. The young Danish enterprise
On Robot ApS
has been a part of +YOU from scratch and we wanted to share their experience in being part of this new partnership: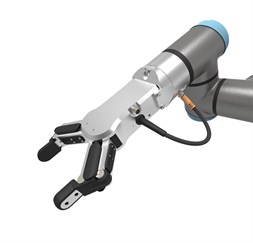 Although On Robot was founded in 2015, they already began to develop their main product, the RG2 Gripper, in 2013. "We wanted to enable the end user to make use of the whole potential of Universal Robots. Therefore, a Universal Robot arm needs an end effector that is just as much universal. This is the vision we pursue, and the RG2 Gripper is its first outcome", explains Ebbe Fuglsang, CTO and one of the two founders of On Robot.

Their Gripper is optimized for the usage with each one of the Universal Robots arms and comes with a Plug-In which allows it to work right out of the box with minimal installation effort. It is also designed for human-robot collaboration, as the RG2 is able to detect the grasping of an object and to decide on this basis whether to loosen it or not. This enables the realization of very complex pick and place applications, in which a robot arm hands objects to a human – or the other way round – in a very short time:
"The features of the RG2 meet the current developments in the robotics market, since the collaborative segment is where the biggest change is happening right now. This trend is ongoing as well in small and medium-sized enterprises automating their processes. They are reliant on a quick return of investment and often don't have many employees with extended programming skills in their staff. Thus, for not losing time with the robot's installation and the instruction of the team, it is essential for them that their whole automation solution, including robot arm, software and end effector, is intuitive to program and easy to use."
For On Robot, the close collaboration with Universal Robots and in particular the participation in +YOU made a big contribution to the development of the gripper: "+YOU enabled us to develop a lot of new features. A good example is the automatic payload calculation, which could not have been implemented without the possibility of a graphical user interface on the robot. Now the user gets the feedback he needs regarding the gripper's work – all in one interface."
On Robot still is a very young company – however, steadily on the up, as Ebbe Fuglsang explains: "Right now we experience an enormous growth. Today we are collaborating with around 40 partner companies that market our RG2 Gripper globally. To a large extent this stems from our collaboration with Universal Robots, which gives us credibility and attention in the market. A lot of distributors contacted us since we are present in the Universal Robots+ Showroom."
The story of On Robot serves as a great example on how our vision of a robot industry collaborating with itself can work. In this context, the booth arrangement at this year's AUTOMATICA in Munich seemed very symbolic: The On Robot booth was located right next to the one of Universal Robots, where Universal Robots+ was launched, and could attract a lot of interest, too: There was not even enough paper on-hand at the booth to write down all the leads that were generated. We are curious what the future may hold for On Robot.